Someone has been coming to The Power Line recently using the search term "is firstenergy the next enron."  Well, I wouldn't go that far, for lots of reasons, but take a look at what blogger Jonathan Bluhm is saying about FirstEnergy over at Seeking Alpha.
I have seen a number of articles lately about FirstEnergy's coming dividend crisis.  Companies pay dividends out of the profit they are making.  FirstEnergy's problem is that their profit has been falling steadily over the past year or so.  The company has kept its dividends the same throughout that same period.  This means that they are reinvesting less and less of their profits back into their company for things like, oh, I don't know, maybe meter reading and distribution line maintenance.
Let's see what Mr. Bluhm had to say.
While the company can be applauded for its dramatic efforts to transform for the future, they are still way too late to the party. As such, they have lagged their industry peers drastically over the past few years, down over 40% vs. the Vanguard Utility ETF (VPU) being up 40% and the S&P up 102%.

In fact, the 10-year chart for FE shows that they haven't even managed a positive return during that time period. The shares went on a nice run-up to their peak at over $80 in 2008, but since then, have given all of those gains and more back, finishing the 10 years down almost 10% total.

The reason for the especially harsh decline in FE this year has been because of their terrible earnings reports. The company has seen earnings per share steadily decline since 2008 when it was $4.38/share to 2012, when it was $1.84/share. But for the trailing twelve months, the EPS total is only 25 cents. That means FE is trading at the ridiculously high P/E ratio of 126.8. That's an expensive utility. In their most recent quarterly report sales, earnings, cash flow and profit were all down, while debt, expenses and interest payments were up.

The dividend at FE looks great right now compared to their peers, yielding almost 7%. But the truth behind that number is that it hasn't been raised in 5 years. At its peak in 2008, it was actually only yielding 2.65%, pretty paltry for a utility. The drop in share price since then is the only reason its yield has gone up so much, not dividend raises. The last two quarters, the company has been Free Cash Flow negative, meaning they've taken on debt to pay shareholders their dividend. While it's not a desirable situation to be in, this happens from time to time for plenty of companies, especially utilities. But management will do it for the sake of not alienating shareholders and justify it by looking to future growth to get the cash flows back in the positive again. This isn't the case for FE, and it won't continue to happen much longer.
Ruh roh.  And here is his conclusion.  It's pretty funny from an analyst who claims he never tells investors to sell a stock.
I'll never tell investors to "sell" a stock because I'm just not that type of investor. I don't ever short a company – it's just not my style. If that means I don't make as much money as the guy who does, then so be it. I guess you could say I'm an optimist?

However, I will say this – do not buy FirstEnergy, even at these extremely low price levels. Especially don't buy FE for the yield as that appears to be a trap. I wouldn't even think of touching FE with a 130 foot electrical tower (inside joke) until the shares touch the 50 day moving average, the debt ratios improve, and the company posts solid numbers for a couple of consecutive quarters. Utilities is not the sector you want to bottom feed in. Utilities are some of the slowest companies to enact change due to the regulatory environments in which they operate and their long-term outlooks.

FirstEnergy's efforts to transform the company into a leaner and greener one are to be applauded, but they will take years to realize. This isn't my opinion, it's the managements. Many of their projected changes are not due to be completed until 2017 or later. Over that 3-4 year time period, I predict that dividends will have to be cut and sales and earnings growth will stay relatively flat. The changes the company is undergoing will take substantial levels of capital investment, which the company currently does not have partly because of the dividend. You can safely leave this stock out of your considerations for a while, though they may be worth checking in on in a year or two.
So Bluhm is saying that FirstEnergy is in a real bind, in several ways:  the company needs to invest a lot of capital in itself, but it has too much debt already; the company has to cut its dividend which will cause its stock price to fall further; FirstEnergy has been too slow diversifying its generation mix and seeking havens in regulated markets and can't change far enough fast enough.
There is an interesting map in the article of FirstEnergy's service area: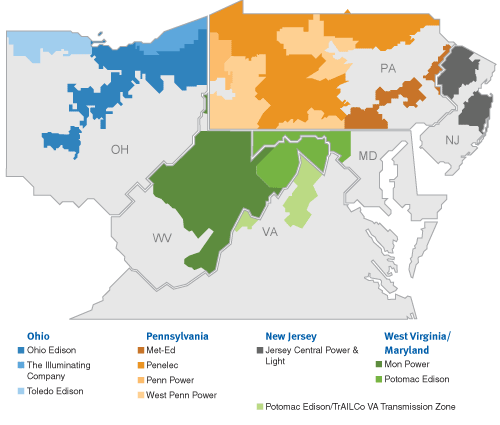 Now look at this map of PJM Interconnection's service territory:
Notice that FirstEnergy now has geographic reach across the whole PJM region, from the NJ shore to northwest OH.  While most of the population centers in PJM remain in other hands, in the two years since it joined PJM (after swallowing PJM member Allegheny Energy) FirstEnergy is now a force to be reckoned with inside the PJM cartel.
Note also that of the four states in which FirstEnergy operates, only WV has a regulated electricity market.  We know that the Harrison deal was an attempt by FirstEnergy to suck cash out of its Mon Power subsidiary, as well as a belated attempt to arbitrage a regulated state by dumping an obsolete coal plant onto WV rate payers.
But as Mr. Bluhm points out, this may be too little too late to allow FirstEnergy to escape the financial strait jacket it has created for itself.