"First they ignore you, then they ridicule you,
then they fight you, then you win."
-- Mohandas Gandhi
We have been hearing a lot of talk, in both FirstEnergy's and AEP's coal plant dumping cases at the WV PSC, about energy efficiency.  Let's take a step back and look at exactly what energy efficiency as an electricity resource means.
Let's start with the concept of electricity resources.  Power companies must make sure that they can meet all the demand for electricity in areas that they serve.  In fact, demand for electricity is actually what drives the operation of the electrical system.  Electrical use, called "load" by engineers, increases as more and more people turn on lights or appliances, and power companies ramp up their power generation to meet that increased load.
But we have learned through decades of experience, that shifts in technologies or addition of insulation to limit heat loss, will allow us to be just as comfortable and get the same things done without using more electricity.  Investment in these technologies or better building construction then becomes another electricity resource, just like electricity generation.  Energy efficiency investments produce business and residential improvement and eliminate the need for more electrical generation from any source, renewable or fossil fuel.
In this way, efficiency investments represent a resource that power companies can use to make sure they can meet demand for electricity.  Engineers now talk about electricity resources, instead of generation resources, because energy efficiency investments have proven to be a more cost effective resource than new generation of any kind.
Here's what the WV Division of Energy said in its 2013 Energy Plan for WV:
Increasing generation capacity and transmission and distribution (T&D) capabilities has been the traditional approach for meeting increased energy demand. However, the resources utilized in building new power plants and expanding T&D are often more expensive than resources needed to fund efficiency measures. Americans spend approximately $215 billion/year on the production of electricity at a price of 6 to 12 cents per kilowatt hour. Investments in efficiency only amount to approximately $2.6 billion/year at a cost of around 3 cents per kilowatt hour saved. Furthermore, natural gas efficiency costs $1 to $2 per thousand cubic feet (Mcf) saved compared with $6 to $8 per Mcf supplied.

Many studies confirm the notion of efficiency as a least-cost resource. An Environment Northeast study on the economic impact of EE in New England shows the savings potential for investments in electric and natural gas efficiency at the program level. Their analysis concludes that for every dollar invested in electric energy efficiency, $4.70 in participant savings is generated, and for every dollar invested in natural gas energy efficiency $3.60 in participant savings is generated. Furthermore, in Ohio, a state where 86% of its electricity is generated from coal-fired power plants, research projects that the implementation of residential energy efficiency measures could result in a levelized cost of saved energy of $0.029 $/kWh during the period 2009-2025. Therefore, the cost to optimize Ohio's energy usage in the future through dedicated EE initiatives is much lower than the state's current average residential retail rate of $0.104/kWh. Similarly, energy efficiency was also identified as the most-cost effective resource for energy savings in terms of electricity generation in North Carolina. It is also important to note that over the next twenty years the Southern Region, of which WV is included, has the greatest potential for energy efficiency savings in absolute terms.
So as you can see from the facts that I bolded above, the levelized cost of current electricity generation in the US are two to four times as expensive as investments in energy efficiency to save the same amount of electricity.  Levelized cost, by the way, is a way of reducing all the costs associated with a particular investment to a single current value that includes all long term capital investment costs as well as current operating costs.
So what are these energy efficiency investments that we hear so much about?  From the power companies' point of view, these investments are costs that the companies incur to provide programs to encourage their customers to invest in new ways of doing things.  These costs include the companies' marketing costs to convince customers to participate, costs of administering and tracking the programs, as well as the cash incentives, services and discounts that companies offer to customers to encourage them to make individual investment decisions.
Many customers think that energy efficiency is a free lunch.  After all, the power companies aren't selling more electricity, so we shouldn't have to pay for their efficiency programs.
Actually, that's not right.  In order to get the impacts of energy efficiencies, power companies have to market their programs and provide incentives, and prove exactly how much power is being replaced.  This costs money.  Also, power companies have capital investments in plants that still have to be paid for, even if companies sell more power.
Even with all these costs shifted to rate payers, the total is still, as shown above, only 1/4 to 1/2 the cost of investment in new power plant capacity.  That's the point.  Power companies need to be reimbursed for their legitimate costs, and energy efficiency is STILL the cheapest way to go.
And now for the bonus – Rate payers do pay for efficiency programs, BUT we get a bonus when we participate in the programs.  When we buy the discounted Energy Star appliances or the CFL light bulbs, our electric bills go down, often more than the cost of the programs in our electric bills.  The more you participate, the bigger your bonus.
In WV, our power companies whine about offering energy efficiency programs.  AEP has claimed that their programs cost 9 cents per kwh and are therefore very expensive.  Except that this is the annual cost of the programs which result in customer investments in appliances and light bulbs that will last for years.  As we can see from the levelized cost comparisons, which are the accurate comparisons, comparing the long term investment in efficiency with the long term investment in new power plants, efficiency investments are much less expensive.  Power company claims about short term rate impacts are misleading, and, in the end, deceitful.
Recently, FirstEnergy has been arguing, in their publicity about the Harrison case, that energy efficiency is a decision that each customer can already make, and that power companies don't have to do anything.  This is another deceit.  When we are talking about energy efficiency investments, we are comparing investments by power companies in energy efficiency programs as opposed to investments in power plants.  Countless studies have demonstrated that energy efficiency program investments yield higher returns than do investments in new power plants.
This has nothing to do with individual choices by individual consumers.  Naive and ignorant reporters are often taken in by this deceitful shift from power company policy to individual behavior.  Don't be taken in by this propaganda ploy.
In addition to consumers' bonus from falling electricity bills, energy efficiency provides a couple of extra bonuses.  Because investment in efficiency doesn't involve fuel costs, rate payers are protected from rising prices for coal and gas.  Because investment in efficiency won't fail in a power blackout or cause voltage instability, load reduction also contributes to system reliability.
I joined my friends in Morgantown this morning to greet FirstEnergy CEO Tony Alexander at the company's annual shareholders' meeting.  FirstEnergy's management celebrated corporate democracy and transparency by adjourning the meeting after just 17 minutes.
We did add a new icon to join the Simpsons' 3-eyed goldfish as another symbol of FirstEnergy's brilliant management team:
The FirstEnergy Harrison plant scheme is fast approaching its final hearing at the WV PSC on May 29, but there is another coal plant transfer scheme in the works by the other Ohio-based holding company that controls WV's other electric companies.
AEP wants to "sell" one unit at the John Amos plant in Putnam County and half the capacity of the Mitchell plant near Moundsville to AEP's Appalachian Power Company subsidiary in WV.  The cost of this "sale" will go directly into the rate base of APCo rate payers, raising their monthly electric rates for at least the next few decades.
There is two big differences between AEP's situation and FirstEnergy's situation.  The shares of the Mitchell plant and the Amos plant are not owned by merchant generating companies, such as FirstEnergy's Allegheny Energy Supply which owns the Harrison plant, they are owned by Ohio Power, a utility operating in Ohio.
The second big difference is that, because AEP has operated its own wholesale power sharing pool among power plants in WV, KY, OH and IN, purchased power plant capacity from PJM's RPM capacity market won't be available to APCo for three years.  Power companies can only purchase plant capacity three years in advance on the PJM market, and APCo has not been a part of this market in the past.  By contrast, FirstEnergy is an active player in the PJM markets, and purchased capacity is available immediately from PJM.
Purchasing plant capacity on PJM, instead of owning coal fired power plants, has been, and will continue to be, a less expensive alternative.  This is true primarily because low cost natural gas generated electricity is now setting the price of energy on these markets.
So does APCo have a capacity problem?  They do have a generation shortage, compared with their projections of future demand.  This shortage has actually been a long term feature of AEP's WV power companies, which have always just imported power from the AEP power pool, which no longer exists.
But wait a minute.  Note what I said above.  AEP's Ohio Power owns one of three units at the Amos plant and all of the Mitchell plant.  These plants are both in WV.  So WV doesn't really have a shortage at all, it's just that AEP's Ohio Power owned these power plants and was exporting APCo's "shortage" to its OH customers.
If the Mitchell and Amos plants get transferred onto APCo rate payers' electric bills, rate payers will be buying power plants for the next 30 years, but APCo really has only a three year problem with their generating capacity.  There are lots of things APCo could do for three years to solve this temporary problem.  Why do they want to put rate payers in hock for the next thirty years?
Now that Ohio has completed deregulation of its OH retail electricity markets, power from Ohio Power's coal fired power plants can't compete with electricity from the open market.  Ohio Power needs to dump the overhead costs of its coal fired power plants if it wants to cut costs to compete in OH.  That means their ownership of WV coal fired plants has to go.  That's the real reason behind AEP's rush to saddle APCo rate payers with these plants.
APCo's CEO Charles Patton even admitted, in testimony to the WV PSC, that simply purchasing electricity, as opposed to reserving plant capacity, from PJM's markets would probably be a cheaper short term solution for the next three years.  But then he turns around and claims that this short term problem is really a long term problem that can only be solved by dumping Ohio Power's unwanted power plants on his WV customers:
Q.  WOULD IT BE FEASIBLE FOR APCO TO RELY ON SHORT-TERM MARKET OPTIONS TO MEET ITS NEEDS FOR CAPACITY AND ENERGY FOR A FEW YEARS BEFORE MAKING A DECISION ABOUT
A LONG-TERM SOLUTION?
A.  That could be done, and current market prices might make that appear an attractive option at the moment. But I think that such a course of action would be short-sighted. The Generating Assets are available now; they are unlikely to be available one, two, or three years from now. APCo's analyses were predicated on determining the least-cost long-term option for APCo and its customers and I believe that is the most appropriate frame of reference.
Why would the Mitchell and Amos plants be "unlikely to be available one, two, or three years from now"?  Is Mr. Patton saying that if the plants can't be dumped on APCo rate payers, they will have to close?  Is he saying that they are about to vanish into thin air?
No, what Mr. Patton is saying is that Ohio Power is desperate to dump these plants now, WV rate payers be damned.
If you read what AEP has been telling the WV PSC in its own power plant transfer case, the company is extolling all the wonderful benefits that its APCo rate payers will get from owning more of the Amos and Mitchell plants.  Like FirstEnergy, AEP wants West Virginians to think that the company is really a charity that exists only to help WV.
There is more evidence that AEP is only looking out for AEP in this power plant scheme.  In the discovery phase of the WV PSC case, AEP responded to a question from the WV Consumer Advocate Division this way:
Request IRP-18 -
In the APCo/WPCo merger docket, Case No 11-1775-E-P, the Company planned to acquire 80% of the Mitchell units. Why has the Company reduced the transfer capacity to 50% of the Mitchell units in this docket? Provide any analyses, workpapers, memoranda, or internal correspondence describing and/or supporting the reason and purpose of this change.
Response IRP- 18 -
The percentage was reduced from 80% to 50% due to updated resource planning.  See the testimony and exhibits of Company witness Torpey.
The CAD's request refers to a separate case in which APCo is seeking to merge with Wheeling power.  In that case, APCo said it was acquiring 80% of the Mitchell plant's capacity.  Then, when they filed the power plant transfer case a little while later, APCo said they would purchase only 50% of the plant.  CAD wanted to know what caused the change.
In response, AEP provides a non-answer.  They say the reasons for the reduction can be found in testimony by their employee "witness Torpey."  Here is a link to his testimony.  Go ahead, read Mr. Torpey's testimony.  You won't find any explanation of why AEP decided to reduce APCo's share of Mitchell from 80% to 50%.  After all, Mr. Patton, in the same document says the Mitchell plant is a great "Generating Asset."  I guess the capital letters were to emphasize just how Great the Asset is.
So what really happened in the time between APCo's merger filing and its new application for the Mitchell/Amos transfers?  This happened.
AEP decided that it was going to shut down two coal burning units at its Kentucky Power coal burner, Big Sandy.  Now Kentucky Power was short on generating capacity.  The original plan was to "sell" 20% of the Mitchell plant to Kentucky Power and 80% of the plant to APCo.  But with the closing of Kentucky Power's two Big Sandy units, Kentucky Power needed more power.  So APCo bumped up Kentucky Power's share of Mitchell to 50% and dropped APCo's share to 50%.
Where were the supposed needs of WV rate payers in this equation?  Nowhere, that's where.  It was all about AEP playing monopoly with its wholly owned state utilities.  No charity for WV here, just flat out profit calculation by AEP.
Still looking for the person who left the goldfish in the tunnel at the Perry nuke plant.  FirstEnergy has serious security issues.  Perry's problems continue.
Keryn has been reporting on this story for a while now.
Be sure to take her "FirstEnergy or The Simpsons?" test while you are there.
Every year about this time, PJM Interconnection does a press release on its projected summer peak load.  Here's the link to this year's projection.
PJM Interconnection, operator of the nation's largest electric grid, expects to have sufficient power this summer when air conditioners push power use to as high as 155,553 megawatts. This compares to PJM's all-time peak demand of 163,848 MW. PJM serves 60 million people in 13 states and the District of Columbia. One megawatt is enough to power 1,000 households.

To meet demand, PJM has available 186,884 MW of installed electricity generation capacity and 11,175 MW of demand response and energy efficiency. Demand response means there are customers who are paid to reduce their energy use at peak time periods on request and energy efficiency pays customers who modify their buildings to save electricity. This amount of demand response and energy efficiency is about the same as the total amount of nuclear capacity in the state of Pennsylvania.

This year's summer forecast for power use includes East Kentucky Power Cooperative, which will be fully integrated into PJM on June 1, 2013. Together with EKPC, the anticipated demand growth from 2012 to 2013 is 0.9 percent, slightly lower than normal due to the continuing effects of the slow economy.
Remember back in 2008 when PJM was predicting annual load growth of 1.5% year?  PJM has been revising its annual demand projections downward every year since then.  This year's annual growth rate is now only .9%.
In the years immediately following 2008, PJM blamed falling demand on "the recession."  Now that "the recession" has become long term stagnation, PJM uses the euphemism "the continuing effects of the slow economy."
To really understand what is happening, use the quote above to do a little math.  PJM's projected 2013 summer peak is 8,295 MW less than its record summer peak.  Efficiency and demand response for 2013 represents 11,175 MW of PJM's current capacity.  In other words, deliberate demand reduction is now the major factor in slowing load growth in PJM.  This year's amount of demand reduction would have eliminated PJM's earlier peak record, and still would have had about 3000 MW left over to cover demand growth from other causes.
PJM opened its capacity markets to demand resources for the first time in the 2007/2008 RPM markets.  If you look at the math, it is clear that energy efficiency and demand management have made more of an impact on reducing load growth in PJM as the "effects of the slow economy" between 2008 and 2013.
The boys at PJM need to look around at their own industry.  Electricity demand has become less and less connected to economic growth, as demand management becomes embedded in US electrical technology.  See for yourself.
But PJM engineers seem to see the world through the eyes of the big power companies that run the PJM cartel.  Those power companies, that have huge investments in generating electricity, continue to hope that "when the economy recovers" electricity demand will boom.  Guess again, boys, those days are gone.  To paraphrase James Carville, "It's the efficiency, stupid."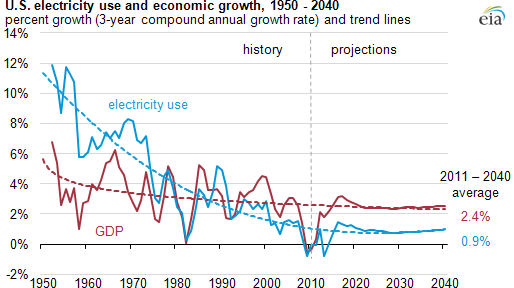 For a further explanation of this graph, see the link to my earlier post as above.
Last week, several Web sites publicized a report that Synapse Energy Economics just published.  The report was the result of a study that PJM Interconnection commissioned to study the impacts of several different levels and sources of wind power on electricity prices in PJM, through 2026 when most state renewable portfolio standards in PJM will expire.
The study compared three scenarios: one in which renewable power penetration, primarily wind power, was limited to the targets set by state RPS targets, one in which wind penetration was more than twice the RPS targets but with all wind power generated from within PJM's region, and a third scenario with the same level of wind penetration as the second scenario, but with 6000 MW of capacity coming from imports of land based wind power from outside PJM, from the Midwest.
Articles about the study hailed the fact that in the three scenarios, the more wind power was added to the model, the cheaper wholesale electricity prices in PJM fell.  If you have been reading The Power Line, you know that this is not news.  As I reported here, this change is happening in the real world, right now in Germany.  We don't need any models to show us that when installed renewable power capacity reaches a certain level, electricity prices fall.
The importance of the Synapse study lies in what it tells us about land based wind power as opposed to offshore wind power.
In all three scenarios, Synapse assumed that PJM would use 4000 MW of offshore wind power capacity.  But then, on page 23 of the report .pdf (as opposed to the report page number) Synapse published the results of a "sensitivity analysis" which is essentially a fourth scenario in which 5000 MW of offshore wind capacity is substituted for the 6000 MW of wind power imported from the Midwest in the third main scenario.
This increased offshore wind power analysis shows that the net savings, compared with just meeting RPS targets (scenario 1), would be $5.9 billion by 2026.  This compares with savings of $6.9 billion by 2026 from scenario 3 which imported 6000 MW of wind power capacity from the Midwest.
There are several interesting aspects of the increased offshore wind power analysis that should be noted:
On .pdf page 14 of the report, at the bottom of Table 3, you will see a list of capacity factors that Synapse used in their modeling.  Capacity factor is simply the percentage of time that a generator actually provides electricity to PJM.  Wind power generators have relatively low capacity factors, because wind does not blow all the time.  Synapse projected that PJM only wind generators would have a total capacity factor of less than 40% over the period ending 2026.  The authors projected a slightly better capacity factor from Midwest generators imported into PJM, because wind resources are a little higher quality in the Midwest.  But the highest capacity factor was allocated to offshore wind producers at 45%, because the wind resource off the Mid-Atlantic coast is so superior to any land based resource.  You can see this readily on that old 2006 DoE wind resources map.
If you look at the sensitivity analysis Table 12 on .pdf page 23 of the report, you will see the following entry in the table:  "5 GW additional offshore wind, PJM Mid-East and PJM-South locations; 6 GW less onshore wind buildout; 1 GW less CT resource buildout; small change in timing of CT and CC additions in later years (2020+)"  This means that adding 5000 MW (same as 5 GW, there are 1000 MW, or megawatts, in a GW, or gigawatt) will replace 6000 MW of imported wind power.  Here's why – because offshore wind power has a higher capacity factor, PJM will not need the extra 1000 MW of gas fired power plant capacity (CT means "combustion turbine" and CC means "combined cycle") that is required to fill in for the lower capacity factor land based wind power.  Because the wind blows more often offshore, PJM also needs less gas fired power for backup.
In the Synapse model, increasing the amount of offshore wind in the sensitivity analysis did reduce the calculated savings of added wind power by $1 billion.  But this $1 billion difference is derived only within the limits of the model's assumptions.  There is a big difference between building new transmission to carry distant wind generated power into PJM and actually building new offshore generating capacity in PJM.  Not only that, but if you generate that power offshore, you actually save building transmission capacity for electricity imports from an extra 1000 MW of imported capacity.  And this doesn't even count the permanent indirect economic impacts of manufacturing and fabrication from the offshore wind buildout as projected in this recent US Dept. of Energy study.
The Synapse authors essentially say the same thing at the bottom of .pdf page 23:
The results of the sensitivity run illustrate that significant net benefits still accrue to a scenario with more offshore wind, but the overall net benefits are not as great as seen in the onshore wind scenario. This is driven primarily by the higher capital costs of the offshore wind. We do note though that there are synergies between the level of offshore wind development, and the level of increased transmission need beyond the RPS overlay that we have not captured in this sensitivity run that could have the effect of making the higher offshore wind case closer in net benefits to the onshore wind case. To gauge the level of required transmission in a reduced onshore/increased offshore case, additional model iterations would be required to assess if lower transmission investment (onshore) would result in acceptable levels of congestion and/or curtailment of onshore wind.  Further analyses are required to test this. Also, while 5 GW of offshore wind is a sizable increment above the base case level of 4 GW of offshore wind, we understand that PJM is analyzing "high offshore wind" cases with much higher levels of offshore wind.  Such increases could lead to significantly lower onshore transmission buildout requirements. [emphasis mine]
If you want to see transmission impacts in PJM from similar wind power scenarios, you should take a look at this power point presentation from the PJM TEAC (Transmission Expansion Advisory Committee) meeting in late 2012.  For each scenario, you will see a map of the location of projected generation capacity followed by a map of PJM's projected transmission problems as a result of new power flows in those areas.  Note that in none of these projections are there any substantial congestion or reliability problems.  And I thought PATH was supposed to be a green power express.
PJM projects that there will be some transmission upgrades AND NEW LINES in some areas, mainly in IL, NJ, MD and PA to accommodate new power flows from increased wind generation near the boundaries of either offshore wind connections or Midwest wind import connections.
The transmission needs shown on PJM's 7 GW offshore wind scenario show clearly why offshore wind development makes the most sense for all of PJM.  Right now, the most congested load zones in PJM are in MD and NJ.  It makes sense, as we have said since PATH was first proposed, for the people with the problem to pay for new transmission needed to solve the problem.  With offshore wind, MD and NJ produce their own new electricity and do their own transmission upgrades to deliver that power, over very short distances, to their homes and businesses.
And now the Synapse report provides another demonstration of why that makes so much sense.
Why didn't "green" media outlets who reported on the report see that as well?  Could it be that they have swallowed too much of the AWEA propaganda pumping up new transmission lines for land-based wind power?
I have read FirstEnergy's bogus "resource plan" and everything else that has been filed in the Harrison scheme at the WV PSC, and I have never seen solar power capacity in WV mentioned by anyone.
This is peculiar, because (1) the case is all about generating capacity and (2) almost all of the capacity that Mon Power needs is peak load capacity.  Mon Power's generating system is completely intertwined with PJM's capacity and electricity markets, and PJM's peak demand always comes in the summer, during the daytime, just a little after solar generators are also producing their peak generation.
There are three reasons why photovoltaic power generation is not on the table in either the Harrison case.
All of WV's existing PV generation capacity is outside of FirstEnergy's control, and is in direct competition with FirstEnergy's WV subsidiaries.
The WV PSC continues to passively accept leadership from Ohio power companies, instead of following the lead of other PSCs across the US.  In other states, PSCs recognize that power companies are part of the problem with the chaos that exists in the US electrical system.  Those PSCs, including Ohio and Maryland, have taken a much more active role in empowering homeowners and businesses to make new investment in renewable power and efficiency investments in their states.
The hostility of WV state government to innovation, particularly in small scale solar and wind power development, has led to the termination of tax credits for renewable power systems and the passage of the Alternative and Renewable Portfolio Standard which actively suppresses incentives for renewable power generation in WV.
If WV had pursued small scale renewable power policies similar to those in MD and PA, it is quite likely that Mon Power's need for 10 or 20 MW of new peak load capacity would have been taken care of by WV photovoltaic power.
Just thought I'd mention that.